PriceYak's WooCommerce destination is an extremely powerful way to run a store under your complete control. You can customize your domain, the look and feel of the site, your payment processor and much more. No longer worry about disputes, PayPal, and seller performance issues while developing your own brand, reputation, and repeat customers. There is also a robust selection of plugins and enhancements available from third parties.
If you're just trying out WooCommerce, you can choose from several hosting providers, including Wordpress.com. However, if you have a larger store (over 10k listings), we recommend our own hosting solution. If you're interesting in having PriceYak host your store contact support@priceyak.com.
By linking your WooCommerce store to PriceYak, you get all of PriceYak's advanced world class dropshipping features, putting your store on autopilot and letting you focus on growth while driving traffic to your store. Features include:
Automatic listing creation - Paste in a product ID (or thousands!) from any supported retailer and PriceYak will generate beautiful product pages for your store in just minutes.
Repricing - PriceYak will automatically adjust price and availability of the products on your store as prices change on the source retailer.
AutoOrdering - PriceYak will automatically order the item from the source market within minutes of you receiving an order.
And much, much more.
Some tips for setting up your store:
PriceYak uses OAuth to access your store. When you add a Woo store in PriceYak, you'll need to login with your admin credentials to authorize Priceyak.
Your WooCommerce store must support SSL (HTTPS).
Turn on "Stock Management" in WooCommerce Settings > Products > Inventory

In the Wordpress settings, turn on pretty permalinks (the selected radio in the screenshot).
Modify your listing template in PriceYak. For this select "WooCommerce Optimized".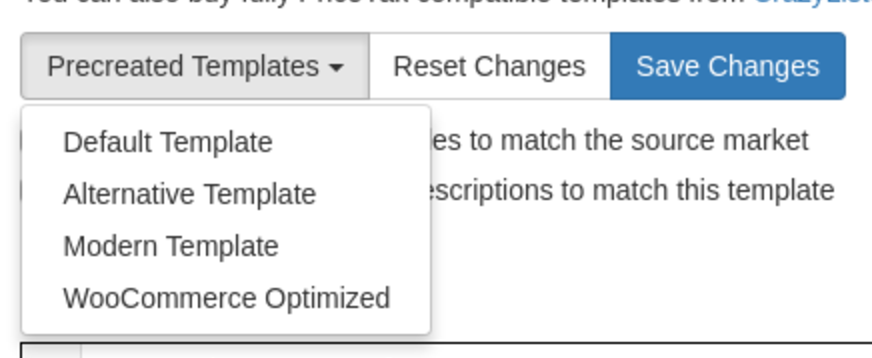 For tracking upload, setup Aftership. To do this, you need to:


Make an account with Aftership.
In your WooCommerce store admin page, go to "Plugins > Add New" and install + activate "AfterShip - WooCommerce Tracking"
In your WooCommerce store, get Aftership's Wordpress API Key at "Users > Your Profile". You might need to first check the "Generate Aftership API Key" box, save, and refresh the page. Then paste it on the AfterShip WooCommerce page on your Aftership account.
Then, PriceYak will begin automatically posting tracking numbers for your AutoOrdered items!

By default, PriceYak reprices with a 10% marketplace fee. Go to "Source Settings" for your desired source (e.g. Amazon US), then "Show Advanced Repricing Settings", then set "Percentage Marketplace" to 0. Save, then click "Test saved repricing settings" to verify that your pricing formula works as you desire.
Troubleshooting
- In general, if your store is not functioning fully and quickly when browsing, PriceYak will have issues too. Solve site reliability and sluggishness issues with your host before troubleshooting through PriceYak.
- If you have an unusual issue, try disabling all plugins then retrying the action as many plugins can cause issues. Plugins that are known to cause issues with PriceYak include:
- W3 Total Cache (causes image related error when creating listings)
Authorization Issues
- Please ensure your server is not blocking HTTP UPDATE and DELETE requests (you might need to ask your developer or hosting provider).
- Please check whether your hosting provider is enforcing an IP whitelist. If so, we will need you to ask your host to whitelist our IPs:
205.204.93.86
68.71.37.114
68.71.37.115
68.71.37.118
- Please ensure SSL (HTTPS) is enabled for your domain and functioning properly. Go here:
https://www.ssllabs.com/ssltest/index.html
and enter your domain. Click on the first IP address (Server) listed after the scan. If it says "This server's certificate chain is incomplete.", then you must work with your WooCommerce host and/or SSL certificate provider to complete your certificate chain. Then you can reauthorize.
- Also, make sure you have not configured an extra directory level in your store. For example, you should be able to login to your admin dashboard at "mystore.com/wp-admin", NOT "mystore.com/mystore/wp-admin".