Hipshipper is an alternative to eBay's GSP program that increases your sales and profits. Hipshipper offers a complete international shipping solution that includes:
Free International Returns

Add profit to shipping - fixed price factor shipping cost, flat or percentage

Shipping consolidation - you can send multiple items together to their logistics center

Seller Reputation Shield - proactive, seller-centric customer service to keep seller ratings intact

Real-time, online tracking for buyers
Hipshipper opens up your eBay store to more international customers by offering competitive shipping rates. Sellers who have joined Hipshipper report an increase in sales of up to 25%.
Hipshipper integrates directly with PriceYak to make international orders a breeze.
To enable Hipshipper for your store, you must first sign up here. You must create a Hipshipper account before enabling it in PriceYak. Hipshipper is currently compatible only with eBay US stores.
Once you've created a Hipshipper account, navigate to your store settings page and head to "General". Under "Show Advanced Settings", check "Enable Hipshipper for international orders". Priceyak will now automatically detect international orders and forward them to Hipshipper for you!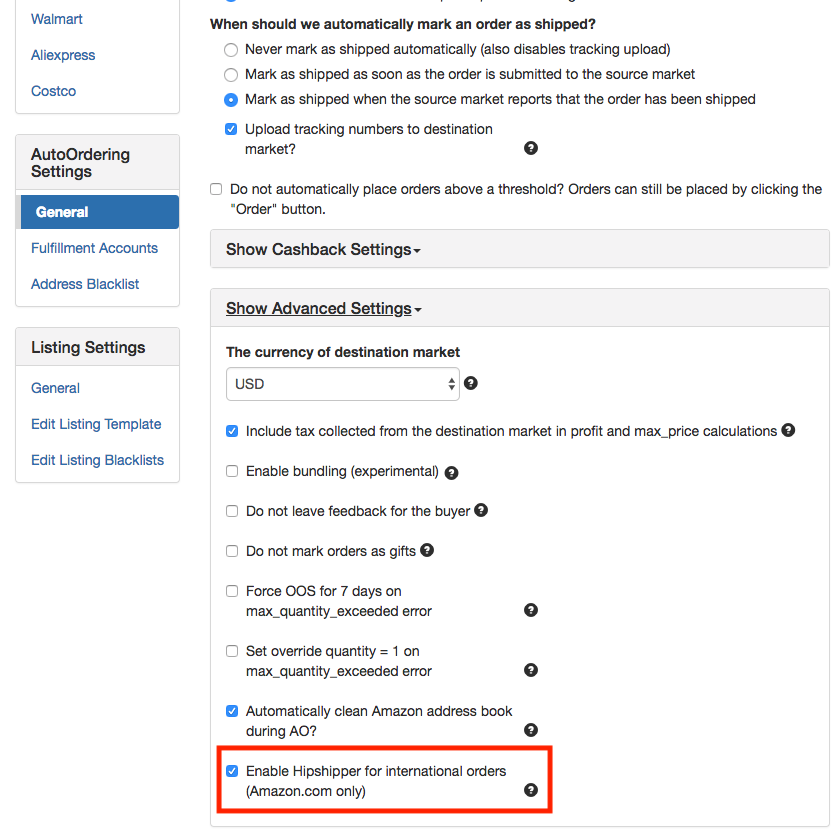 If an order was fulfilled using Hipshipper, you'll see this on the eBay US Destination Details table on the order:

To learn more about Hipshipper, visit www.hipshipper.com or view the video introduction.