Are you coming to PriceYak from another arbitrage provider? Great news! PriceYak will automatically import all of your current eBay listings into your PriceYak account for monitoring and Auto Ordering.

UPDATE: Easync and SaleFreaks users can now upload listing exports downloaded from their providers directly to PriceYak's Bulk Editor without making any edits to the CSV first.
You will only need to complete 2 simple steps to make sure all your listings are being properly monitored.
1. Remove your old provider so it can no longer adjust your eBay listings as this could interfere with PriceYak. You can do this by removing the listings from your old provider (not delisting), canceling your old provider, or removing their token from your eBay account.
2. Check your current eBay listings to make sure PriceYak knows the source and item number for each listings. Without this information, PriceYak won't know who to use to monitor your listings, for example, Amazon US, Walmart, etc.
- Check to see if you have any listings on eBay that are not classified with a source by going to Fix Problems -> Track Unknown/Untagged Listings.

- Once on the untagged listings page, if you have any listings that are not properly tagged they will show on this list.
Example:

- You could have anywhere from zero to all of your listings showing in this list. In the example above, there are only 2 untagged listings. If you have only a few listings showing here, you can individually enter information for the product source as shown in the highlighted fields below. If you have a larger number of listings showing here, you can add the source and item numbers in bulk by uploading a CSV file through the Bulk Tagger, which is the blue button on the top of this page that says 'Bulk Tag Listings', as highlighted below.


If you have many listings which need to be tagged you will proceed with creating a CSV file of your listings from your old provider. The directions on how to format this CSV file are below. However first you will need to export your listings from your current provider. Below are two of the most common providers that people switch to PriceYak from; please click on the link for your provider if you need instructions on how to export to a CSV file.
Once you have your CSV file from your previous provider it will look similar to this image below.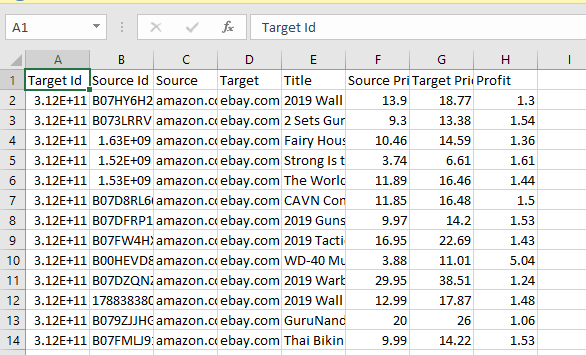 Now, you will format your CSV file so you can upload it to PriceYak.
Step 1: Remove any unneeded columns. Delete all columns except source, eBay item ID and Source item ID.
**Hint, in column A, if you wish, you can change the format to a number in order to properly view the data in that column. Simply highlight column A and choose Numbers from the drop down menu as shown below. For column B, just expand the section so you can see the whole number.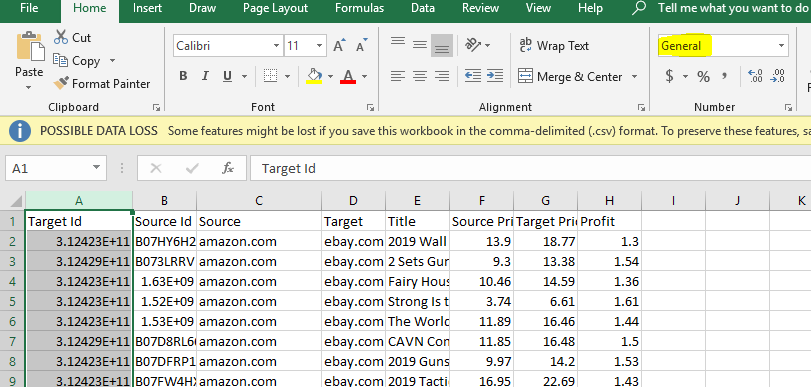 Result: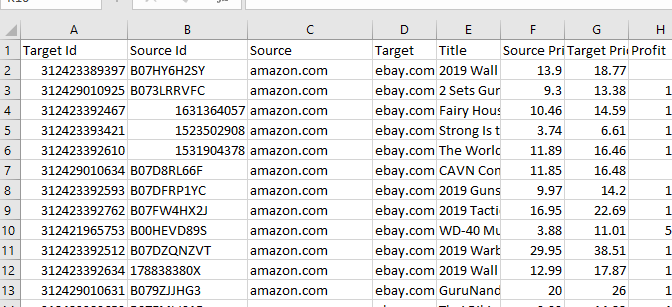 Again, now you will remove all columns not required, so you only need to keep A, B and C as shown in this above example. (Please note, layout and column data may be in different orders depending on which provider you export from).
Result: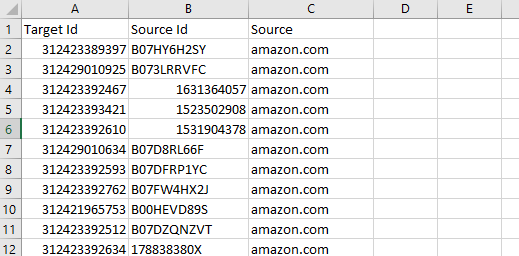 STEP 2: Retitle the header on each column and rearrange the columns so they are in the following order: "itemid,source,product_id"
The format of the CSV file should be "itemid,source,product_id" (for Amazon-destination, (not source) use SKU instead of itemid). For example, one row might look like "222136387160,amazon,B00A850UVG" (without quotes).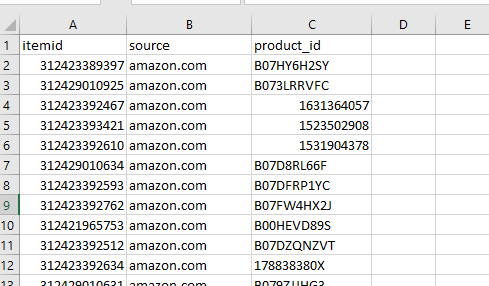 STEP 3: Edit the source verbage. As you can see on the above example, the source says amazon.com. Please change this to amazon_us, amazon_uk, amazon_ca etc. as needed for your country and amazon account.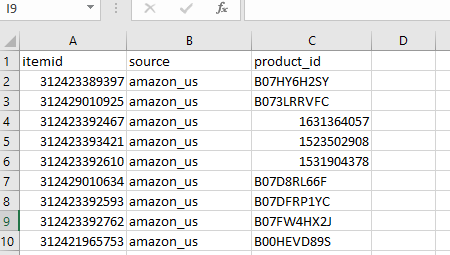 Warning: If you upload incorrect data, your listings might be tagged improperly causing unintended issues. Please upload a small sample file first to make sure everything works is working correctly.
STEP 4: Your file is now ready to be uploaded. Again, from the "Fix Problems", "Track Unknown/Untagged Listings" page...

Click on the blue "Bulk Tag Listings" button on the top.



Select "Choose File" at the bottom left of the screen and proceed with uploaded your CSV file. Once completed, you can return to the "Fix Problems", "Track Unknown/Untagged Listings" page to confirm that all your listings are now tagged and being monitored. If some listings still remain, you can manually add the source and source ID.