Managed Accounts take the headache out of opening, maintaining, and funding Amazon and other retailer accounts, allowing you to focus on growing your business.
To use a Managed Account for fulfillment, you must keep it funded. The best and cheapest way to fund your managed account is by using Payoneer or PayPal Payouts. See this article for how to set up Payouts.
Remember, the funds in your Managed Account are yours and upon request, we will fully refund your Managed Account balance to you via PayPal within 3 business days. We are only able to refund your balance to Paypal at this time.
To add funds, navigate to the Managed Account funding page. Enter the amount you want to load into your Managed Account, the currency your Managed Account uses, and click "Download CSV". You can reuse this CSV to fund your managed account. All payments will be going to managedaccounts@priceyak.com.
You can fund your account with USD, GBP, CAD, or EUR but we no longer support BTC funding.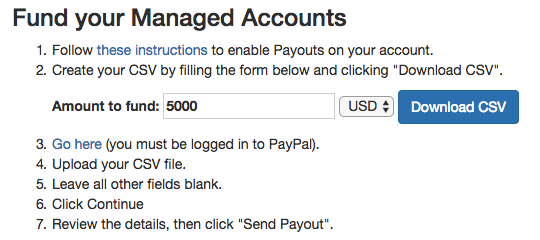 Once you have your CSV in hand, navigate to the Payouts web interface. Upload your CSV and leave all other fields blank. Check the disclaimer at the bottom, and click "Continue".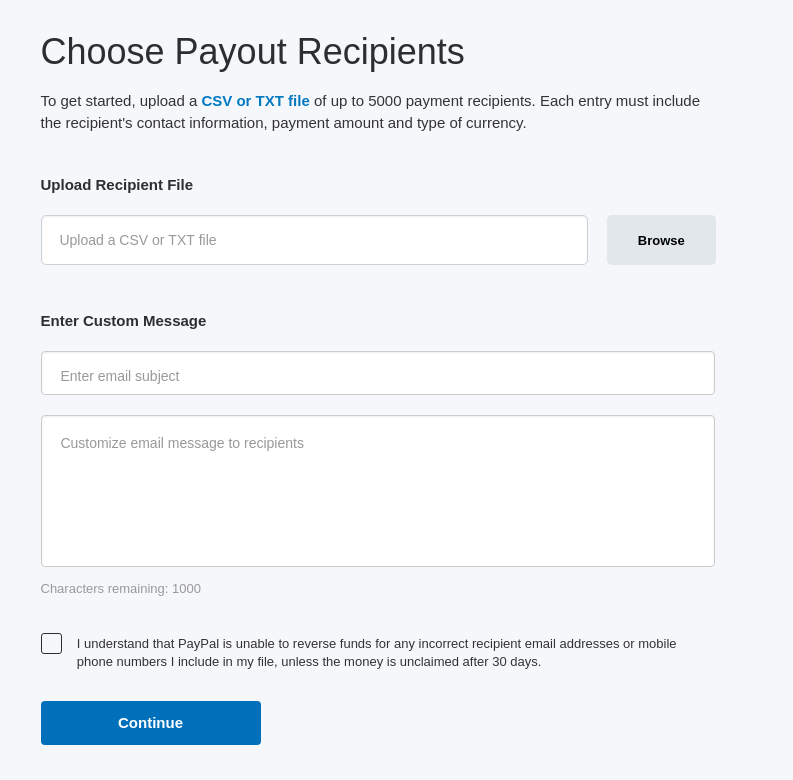 On the final screen, click "Send Payout". Within minutes, your Managed Account will be reloaded.
Funding without Payouts
If you do not have Payouts/Masspay we offer several ways to fund your account:
1) You can send a standard PayPal payment to managedaccounts@priceyak.com, but a $0.49 + 2.9% fee will be deducted (not a great deal). Fees are also entirely at the discretion of Paypal. we will automatically deduct whatever fee they charge. (https://www.paypal.com/us/webapps/mpp/paypal-fees).
Please make sure that the PayPal email you send this payment from is correctly entered into the Managed Account fulfillment account details in your PriceYak account. This is how we know which account to add your funds to! (Store Settings > AutoOrdering Settings > Fulfillment Accounts)
2) If you plan to order >$20,000 or equivalent in another currency per month through Managed Accounts, then you can fund using ACH or Wire transfer. Email zma-support@zinc.io for instructions.
3) We now accept payments via Payoneer with a 1% fee. You can set up your account for funding via Payoneer here!

All payments may take up to 24 hours to reflect in your managed account balance.

Please note: If a payment is sent via a 3rd party company that is not supported by Zinc as a funding method (for example, Payoneer), Zinc may not be able to credit your account for the funds at all. If Zinc chooses to credit funds sent in this way, a 15% service fee will apply.