In some cases, a Managed Account order might initially succeed (and thus charge your balance) but later need to be reversed. For example, your buyer might want to return the product, or the order may be cancelled by the Amazon seller. We do not currently offer refunds on orders marked as delivered because non-delivery disputes place our accounts at risk for closure. Please use tracking as proof of delivery. In some instances, photo evidence can be provided if made available by Amazon.
Cases are automatically opened by PriceYak when an order is cancelled, a return is requested, and for other scenarios. You can also open a Case to ask for assistance with a failed return, cancellation, and other issues. Cases are regularly updated by PriceYak with information about the status of the case.
To open a case, use the "Open Case" button on Order Details Page:

On the Open a Case Modal, you'll see a dropdown that contains several case types, as well as a text box where you can enter details.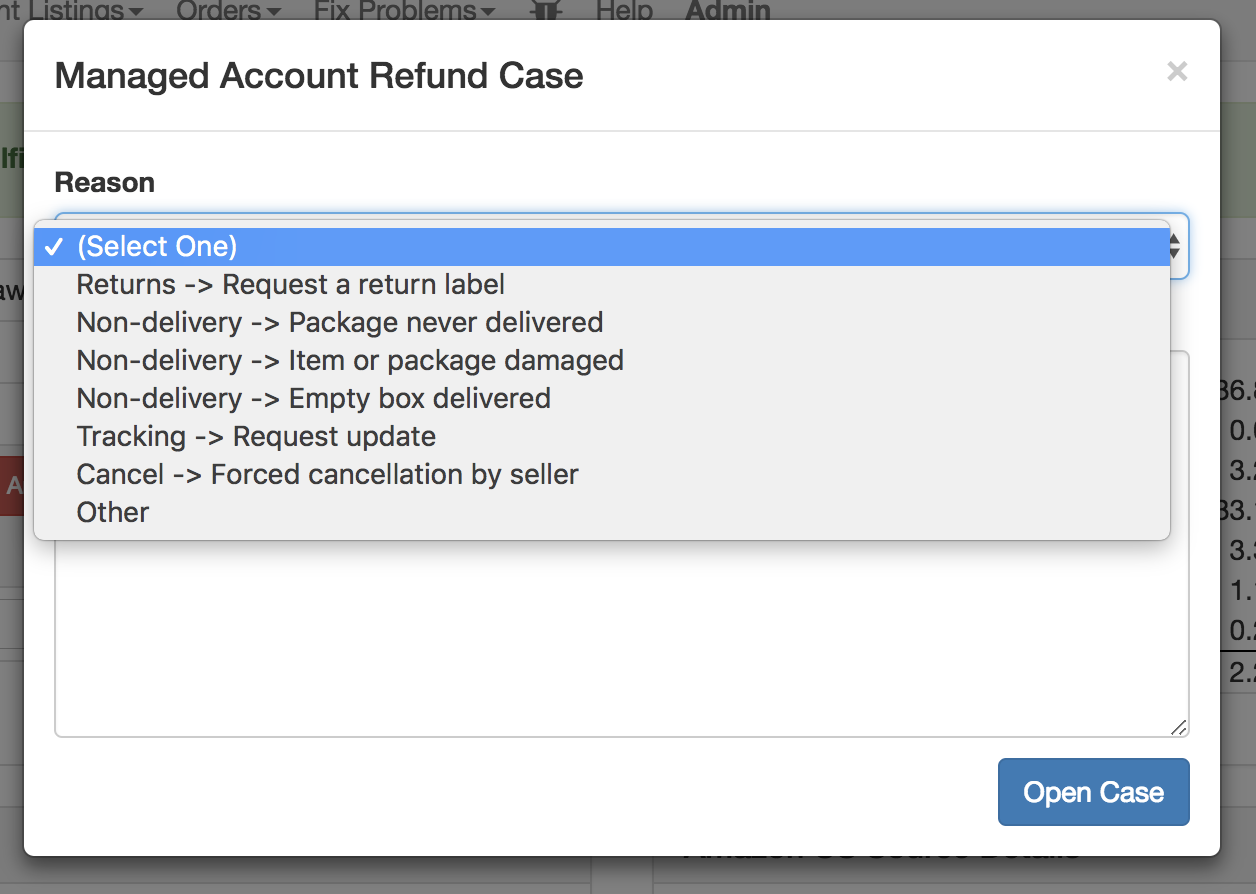 Specifying the correct case type is the best way to ensure your case is handled quickly and efficiently. The following types are currently supported:
| | |
| --- | --- |
| Case Type | Reason to use |
| Returns -> Request a Label | PriceYak will normally auto-generate return labels for you. This case covers scenarios where return automation fails. |
| Non-Delivery -> Package Never Delivered | The item was never delivered, and you'd like a refund. |
| Non-Delivery -> Item or Package Damaged | The item was damaged in transit, and you'd like a refund. |
| Non-Delivery -> Empty Box Delivered | The package was delivered without the item, and you'd like a refund. |
| Tracking -> Request Update | Tracking was never uploaded for this item, and you're looking for a tracking update. Please use the 'Refresh Status' button as well. Sometimes tracking fails to upload as the result of a bug but this option can pull the information and apply it to your order page. |
| Cancel -> Force cancellation by seller | You believe Amazon or the Amazon seller forcefully cancelled this order, and you'd like a refund |
| Other | Order issues not covered by the above reasons |
Once a case is opened, either our automation or the Managed Account Support team will regularly update the case with the latest status. Once a resolution is reached, the case will be closed with a full, partial, or no refund. You can view the latest status of a case on the Order page and via email updates:

Cases completely replace refund requests, but you should continue to email zma-support@zinc.io for issues unrelated to specific orders.