**Please note that YakPal is currently unavailable, and we do not know if/when it will become available again.

For the time being, we are recommending that users use this ASIN grabber

ASINFetcher

**
YakPal is a free Chrome extension which allows you to obtain ASINs and ID numbers from Amazon, Walmart and AliExpress.

Once you have downloaded and installed the YakPal extension in Chrome use the yak icon in the upper corner of your browser toolbar to open the item ID grabber.

For Firefox, Internet Explorer or any other browser:
Drag this link into your browser's bookmarks bar: PriceYak ASIN Grabber. Click on the bookmark every time you are on an Amazon search results page and you will be able to quickly access all of the ASINs from that page (and you can even click through the search result pages). You can also click on the bookmarklet on a single product page and grab the ASIN from that page. Only tested in Chrome and Firefox browsers. Click for more details.
To use the ASIN grabber for AliExpress, you need to open the listing and choose color and size (if applicable), then click "Identify Product Variant."
1) List Product on PriceYak
Simply click this button from a product page on any of our supported marketplaces to instantly list this product to your store. This is the same as copy and pasting the product ID into the "Create Listings" box in your PriceYak dashboard.
2) Item ID Grabber
Clicking this button will show the Item ID grabber. This tool allows you to grab all of the valid product IDs from a search results page.

For example, you can search for "Blue Shoes" on Amazon, show the Item ID grabber, then click "Load items from page". This will load all of the product IDs from the search results into the Item ID grabber box.

You can proceed to load more pages and other keywords, clicking "Load items from page" each time, to build up a large list of Product IDs.

When finished, click inside of the box, hit ctrl-a, then ctrl-c to copy all of the product IDs. Then go to your Create Listings page and paste them all into the box, and click "List Now" (to list them immediately) or "Review and List" (to be able to review and edit listings before posting them)

The Item ID grabber is a great way to build up your listing count quickly!
3) Identify Product Variant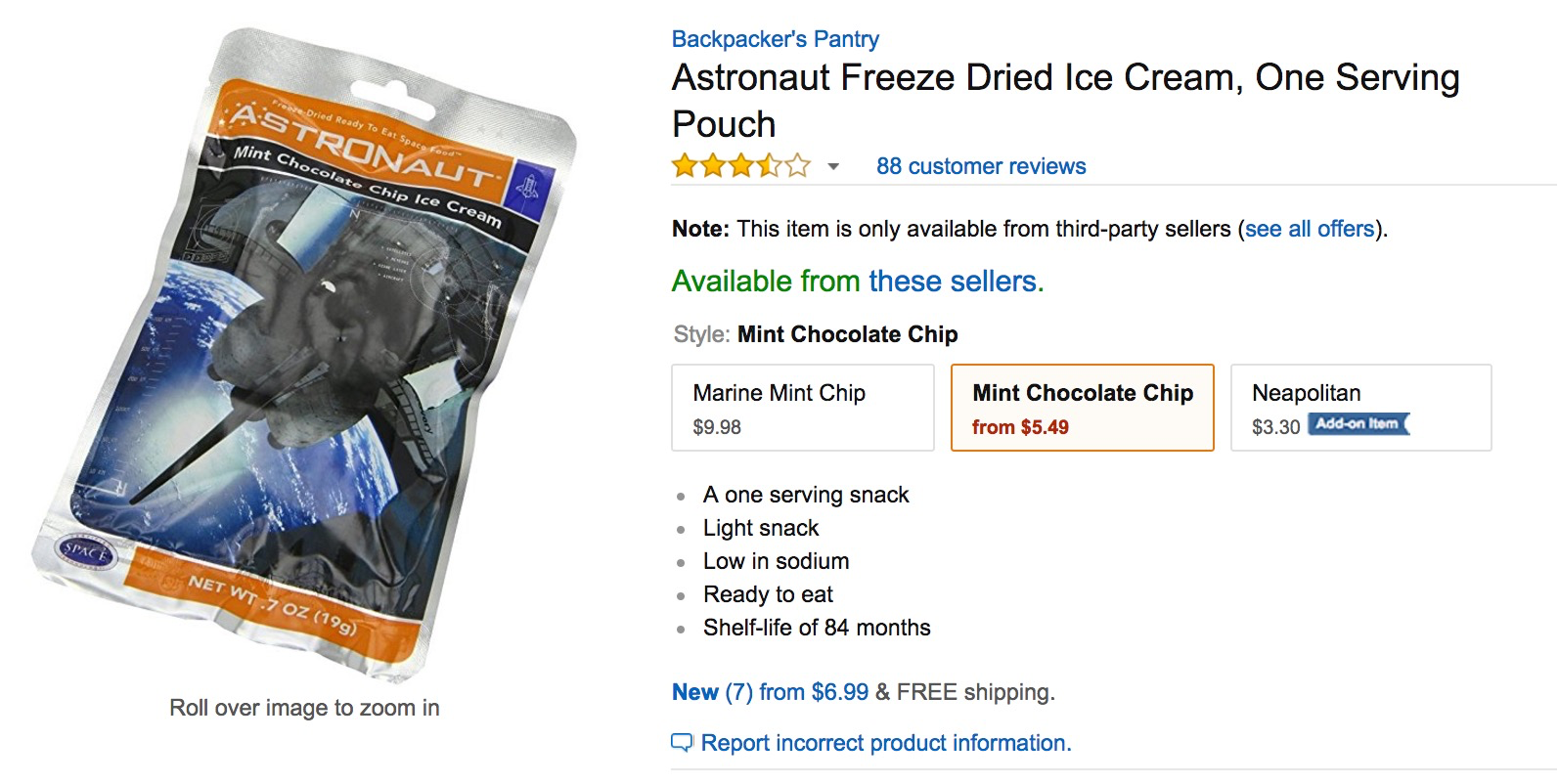 As an example, this astronaut ice cream comes in three different flavors. Use the Identify Product Variant tool to be sure to list the particular variant you want.
This tool is useful for listing items that have different variants on the source market. For example, clothing items may come in different sizes or colors. To use this tool, simply select the variant you would like to list on the product page, then click the button. A pop-up box will show you the special product ID that corresponds to the exact variant you have selected. You may then paste this ID into your Create Listings page to add the item to your store.
--Caution-- Some retailers include a product ID in their URL or in other areas of the product page. Often this ID will not change as you change your variant selection, so we recommend you use this tool whenever you wish to select a particular variant of an item.
Also, due to a limitation with our current AliExpress support you must use the "Identify Product Variant" button to get the correct product ID for every AliExpress item you would like to list.